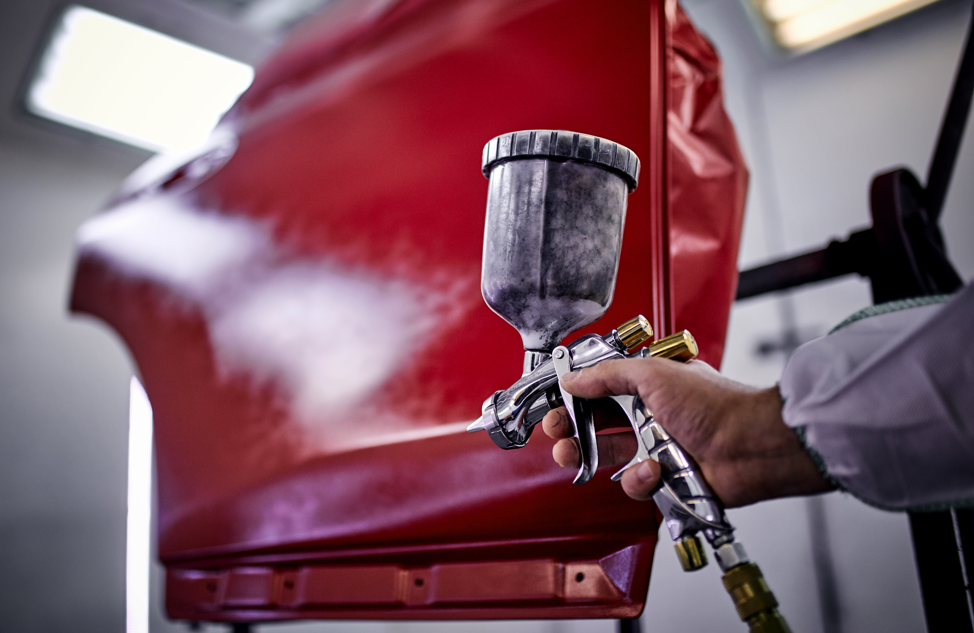 A Historic View of Automotive Painting: A Lesson from a Villa Park Auto Body Repair Shop
These days, automotive paint is like a coat of armor. Tough and durable, it can withstand decades of wear and tear.
It wasn't always this way, however. In fact, automotive paint has evolved exponentially over the past 100 or so years, improving not only in aesthetic, but in functionality as well.
Wondering how automotive paint got to where it is today? Looking to learn a little more about the history of automotive paint? Then keep on reading. This article is for you.
The Early Days
The early days of automotive paint were…rudimentary…to say the least. In the late 1800s and early 1900s, the few automobile owners had to paint their cars with standard house paints.
Because these paints weren't equipped to work with metal, they would peel and flake off rather quickly. As a result, vehicle owners would have to have their vehicles repainted on an almost yearly basis.
The 1910s and 1920s
To counteract the problem of peeling paint, automotive manufacturers started researching the effect that precipitation and other elements had on it. Through this research, they realized the need for a specialized automotive paint.
The first big leap in automotive paint would come in the 1920s, a decade in which Ford Motor Company started using nitrocellulose lacquers in their paints. These lacquers shortened the drying process and made slight improvements on the duration of paint jobs.
At the end of the 1920s, two Columbia University researchers named Charles Eldrige and Colin Fink discovered the process of chrome electroplating. This would go on to have a seismic impact on automotive paint.
The 1930s and 1940s
The 1930s saw the use of stoving enamels. These paints were much glossier than the paints of the past, providing automobiles with a shine that they had never possessed before. During the same decade, Dr. William Peacock created spray-on chrome, a substance that allowed manufacturers to quickly adorn windows and mirrors with a gleam of silver.
In the 1940s, very little happened in the development of automotive paint. This is likely due, in part, to the influence of World War II.
The 1950s and 1960s
Starting in 1955, General Motors began to use acrylic paint on its cars. While thorough and durable, acrylic lacked some of the gloss provided by stoving enamels. For this reason, in 1960, GM began to use an acrylic/stoving enamel hybrid. This provided the thoroughness and durability of acrylic with the shine of stoving enamel.
The 1970s and 1980s
Automotive paint saw very little progression throughout the 1970s. However, in the 80s, auto manufacturers started working with urethane, a strong form of paint that would be sealed with clear coating. This gave the vehicle a shiny, attractive aesthetic to go with extreme toughness and durability.
When properly coated, urethane paints can withstand wear and tear over a car's entire lifespan. While they can be damaged, damage does not come easily.
The 1990s to the Present
Since the 1980s, there has been only small progress in the development of automotive paint. Much of this has to do with the fact that automotive paint is so strong. That being said, manufacturers are always trying to improve upon existing methods. As such, electrocoating and spray-chrome have become increasingly more sophisticated over the years.
Looking for Professional Auto Painting from an Auto Body Repair Shop in Villa Park?
Has the paint on your vehicle seen better days? Looking for professional auto painting from an auto body repair shop in Villa Park, Illinois? If so, Lombard Body & Fender is the auto body shop to visit.
Family-owned and operated for 48 years, we've painted all makes and models. Regardless of the type of vehicle you're looking to have painted, we can accommodate you.
Contact us now to schedule an appointment!